Novamab presented the latest progress of 3 core assets at the ATS 2023 conference

2023-05-25

54

On May 21, 2023, Dr. Yakun Wan, founder and chairman of Shanghai Novamab Biopharmaceuticals Co., Ltd., shared the latest progress of 3 core assets, LQ036, LQ043 and LQ059 with the collegues all over the world.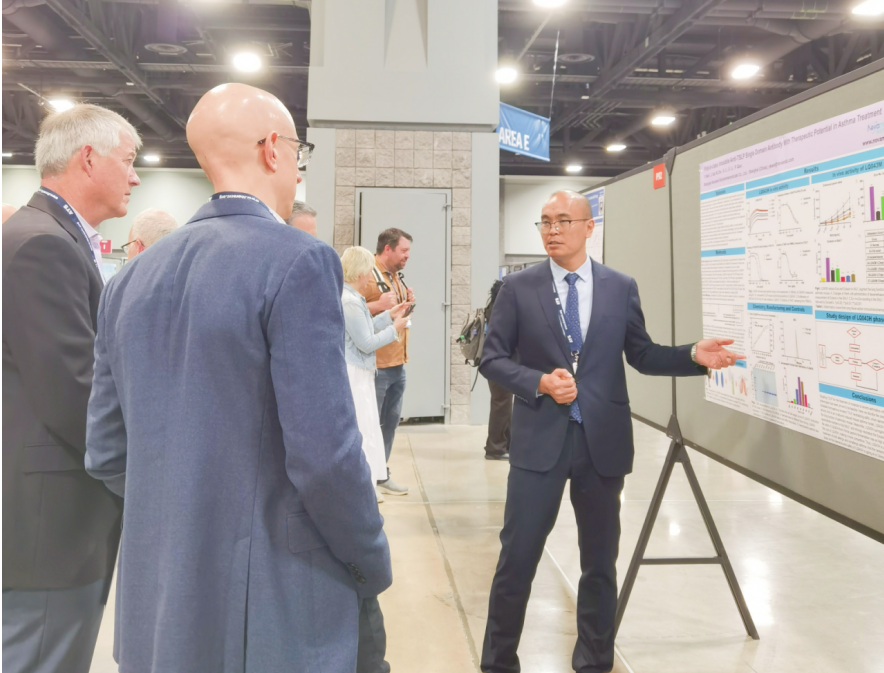 As Dr. Wan said, it was a great honor to present the latest progress of 3 core assets at the ATS 2023 conference. The core assets, LQ036, LQ043, and LQ059 were all delivered by oral inhalation for the treatment of asthma or cystic fibrosis lung disease. All three core assets were are the world's first inhaled sdAb drugs for their respective target. For the conviniet delivery manner, LQ036, which was developed for the treatment of asthma and COPD, LQ043, which was for type 2 and non type 2 asthma treatment, and LQ059, which was developed for the CF lung disease treatment, would target a huge potential market. In the future, Novamab will further advance the clinical development of core assets, hoping to bring more treatment options to patients as soon as possible.

About the American Thoracic Society international conference

The ATS International Conference is the home of pulmonary, critical care, and sleep professionals. Each year, nearly 14,000 of these professionals choose to attend, present, and learn about the latest advances, meet with colleagues from around the world, and strike new collaborations. The International Conference is also multidisciplinary. Clinicians and researchers in many other fields attend the conference, thereby enriching conversations that lead to insights that ultimately improve patient care.
Equally important, the ATS International Conference gathers the entire health care team in one place to share ideas across these medical and scientific disciplines. It is the ideal place for registered nurses, advanced practice nurses, respiratory therapists, and hospitalists to discuss their experiences, challenges, and research so that all can learn about the latest advances in understanding pulmonary disease, critical illness, and sleep disorders.
About Novamab

Shanghai Novamab Biopharmaceuticals Co., Ltd. is an innovative biopharmaceutical enterprise committed to sdAb drug development and industrialization. Founded in October 2017, the company is located in Shanghai International Medical Park. It has Novamab has established the first and only sdAb development platform covering the full biopharmaceutical process in China. As of April 2023, we have nearly 90 employees, applied for nearly 70 patents with 25 authorized.
Novamab has independently created five core technology platforms: sdAb rapid screening platform, Pichia pastoris based CMC platform, biologcial drug inhalation platform, long-acting sdAb platform and bispecific sdAb platform. Each platform has unique leading technology, which makes it more competitive.The powerful paltform make it possible to rapidly bring the candidates to commercialization. The completion of the 500L GMP workshop for sdAb production using Pichia pastoris fills the industry gap in this field, which is extremely scarce and competitive.
Novamab has developed dozens of sdAb drugs, covering respiratory, anti-infection, ophthalmology and oncology. Currently, it has obtained three clinical approvals. LQ036 and LQ043 developed by Novamab have overturned the existing treatment methods for respiratory diseases, both of which are the world's first inhalable sdAb drug for their respective target. Phase I trials of LQ036 have been conducted in China and Australia, both demonstrating excellent safety and tolerability. The LQ036 IND files for COPD treatment will be submitted soon. In addition, phase I trial of LQ043 in China has completed the dosing of the third group of subjects. Most moderate to severe asthmatics would benefit from the LQ036 and LQ043 considering their mechanism of action.